After having huge success on the track the last racing season has been considered by the press as 'a break through season' for Michael Costa Racing.
Whilst it is great to reflect on our race track successes, we are also very proud in that every racehorse that was retired under the care of Michael Costa Racing was rehomed to a loving new owner.
We decided to check up on some of these horses to see how they were doing after their retirement.
Blakjak Paperback (Stable name: Jack)
Jack arrived as a tried maiden horse to the Michael Costa Racing stable. Jack is a stunning black gelding who stands at almost 17 hands. Whilst he was a stunning horse to look at his looks just did not correlate back to his athletic ability. When he arrived at the stable he showed huge improvement and ran a career best third placing. Unfortunately he could not take his performances to the next level and failed to secure a win. He was retried to a jumping/eventing home and his new owner adores him. Jack is pictured above with his new carer Jerry.
Ganar (Stable name: Gary)
Ganar arrived at the Michael Costa Racing stable also as a tried maiden horse, having eight starts with no victories. After settling into the stable, I believed that he did have the ability to be winning races. In his first start for the stable I was very confident that he would run a nice race. I applied earmuffs to his gear as he was a horse that was inclined to over race and become nervous on the track. In the mounting yard prior to the race he looked like he was asleep and he raced accordingly. He jumped slow and followed the field around at Cessnock. I removed the earmuffs and in his very next start he stepped up to provincial level at Gosford and was unlucky in running second. He then went to Goulburn where he had a lead all the way victory. Ganar was only a small horse and what he lacked in sized he made up for in his character. Ganar had a few niggling issues and we decided as he was starting to get on in years the best option was to retire him from racing. One of his owners absolutely loved him and requested to rehome him once he was retired. He is now down in Albury and has three Clydesdales and two ex-racehorses as friends. I love this photo of Ganar, refusing to lift his head from the grass for a photo.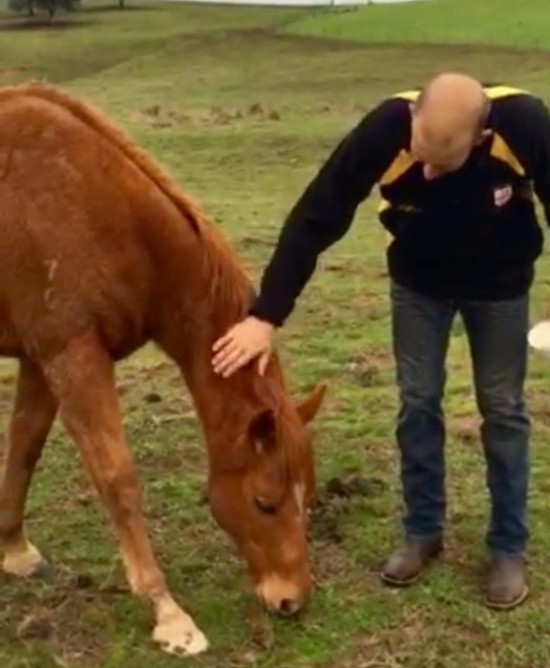 Unnamed: Commands (Stable name: Sonny)
Sonny only had one preparation at Michael Costa Racing. He had one of the best attitudes that I have ever seen with a young horse. All he was concerned about was when his next feed was coming. Sonny unfortunately had some conformation defaults in his front joints and was retired as a racing proposition. Sonny has now been rehomed and is now based at Camden. Sonny is being ridden as a pleasure horse every day and really enjoying his life after his very short career in racing. Sonny is pictured below (on the right) with his paddock partner.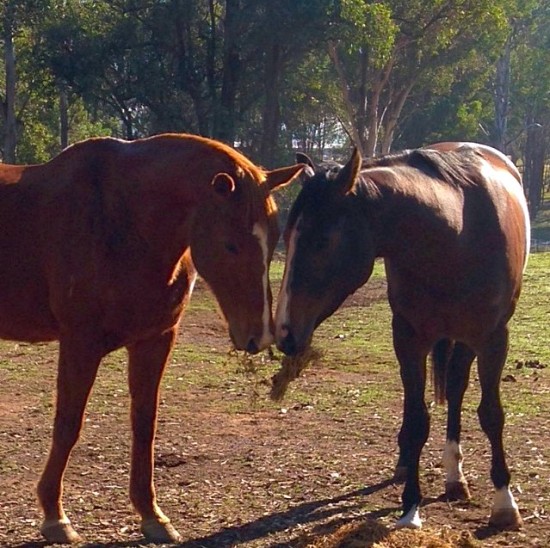 I would like to thank all of the horses who we retired this year. I would also like to thank the owners who not only had the horse's best interest at heart throughout the preparation but also decided not to sell on these horses once they were retired. They gave them away to good homes to ensure they live out the years after racing happy and loved for.